YSS aims to work to the highest possible standards with everyone we meet. Complaints and comments are a vital source of intelligence about how to make services work best and constitute an important part of continuous improvements. We recognise the value of service users' and partner agencies' feedback to enable us to continually review, improve and shape services.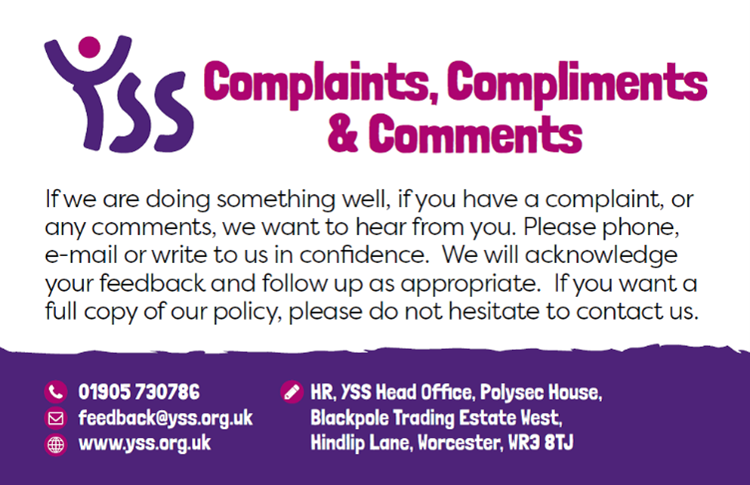 Make a complaint, give feedback, or leave a comment
We can accept compliments and comments verbally, by letter or e-mail, as shown on the card at the bottom of this page.
All complaints will be dealt with respect and confidence at all stages of the complaint procedure. On first instance, the complainant can make an informal complaint either verbally or by email to their support worker or service manager at YSS or email info@yss.org.uk or feedback@yss.org.uk
We will strive to resolve the complaint but if you are not satisfied with the resolution, you can make a formal complaint  by requesting that your complaint is escalated to stage 2 either verbally or by email.
If the complainant is not happy with the outcome of their complaint after stage 2, they are entitled to appeal within 15 working days of receiving the outcome by writing to the Chief Executive Officer explaining why they want to appeal.
To read the full policy on Complaints, Compliments and Comments Policy please click below.
Thanks to our Patron, HRH The Princess Royal & our Funders & Partners